Adventure Tours
Learn more about each of our tours below, or head directly to our Booking Page to reserve your tour.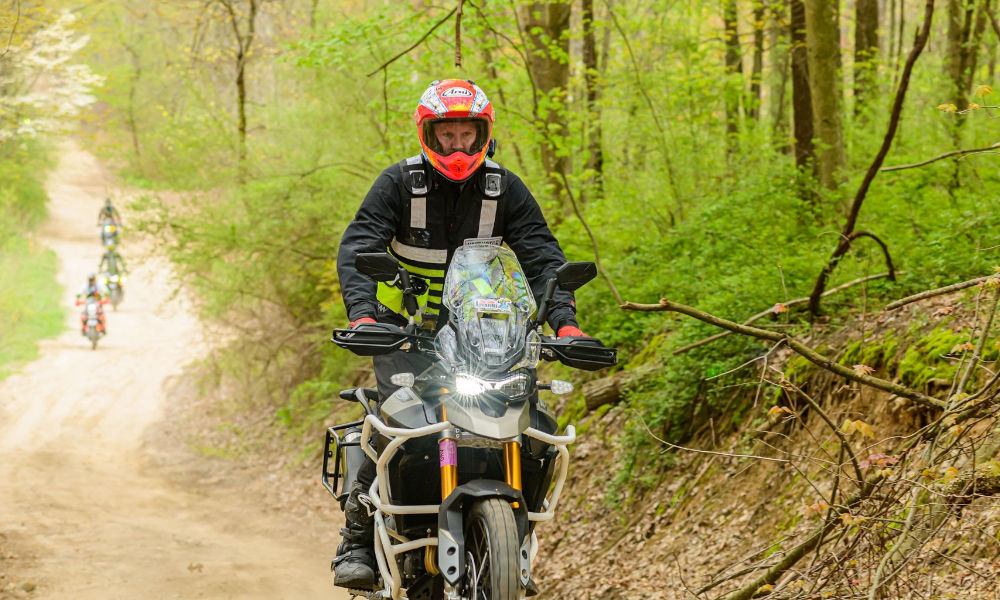 Off-Road Experience
We invite you to experience an adventure motorcycle. You're welcome to select from our fleet of Triumph Motorcycles Tiger 900, Tiger 1200 or Scrambler 1200 series motorcycles & embark upon a journey. Starting with a rider briefing, progressing into an introduction to the bike of choice, then advancing to off-road riding techniques & interaction with expert instructors. Our Instructors are Triumph Level, I, II & III certified & are always on hand to guide, offer advice & manage the group where conditions are tricky to ensure everyone's safety & enjoyment of the day is controlled.
"6 Time" Tour
Enjoy a private tour led by 6-Time National Champion Jeff Stanton. Based upon your preferences, interests & capabilities, Jeff will introduce you to Michigan's wilderness & epic sites within a multiday, adventure motorcycle tour that traverses paved/dirt/seasonal roads, ORV routes, forested trails & rugged terrain. His team of expert instructors accompany the group to assist with terrain navigation, offer advice, share stories of Jeff and ensure overall safety & enjoyment.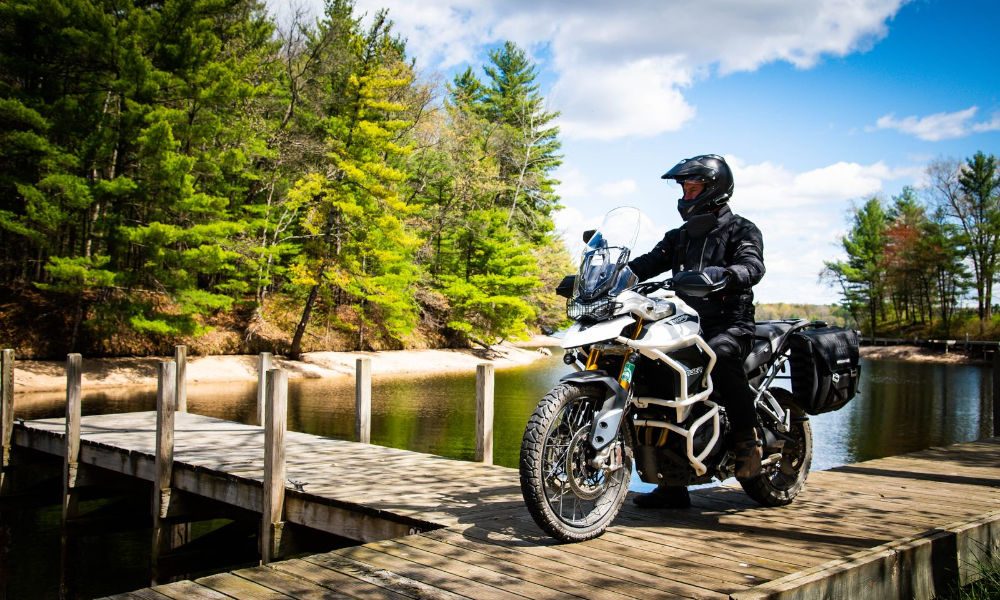 West Michigan Adventure Tour
Michigan is quickly becoming known as a hidden gem of adventure riding here in the United States. With an immense labyrinth of maintained gravel roads, primarily unmaintained seasonal roads, national forest logging roads and single track trails, there is virtually an endless supply of adventure riding in this state to be had on an adventure bike. Refine your existing adventure experience and skills riding dense forest tunnels through the timber, bluff views along grand river trails and stunning great lake beach overlooks. This nearly unmatched variety of environments within a fairly centralized area make riding in Michigan a primiere adventure experience. During this all-inclusive experience, you'll appreciate attentive technical advice and support while finetuning your bike-handling skills on terrain that you wouldn't ride every day.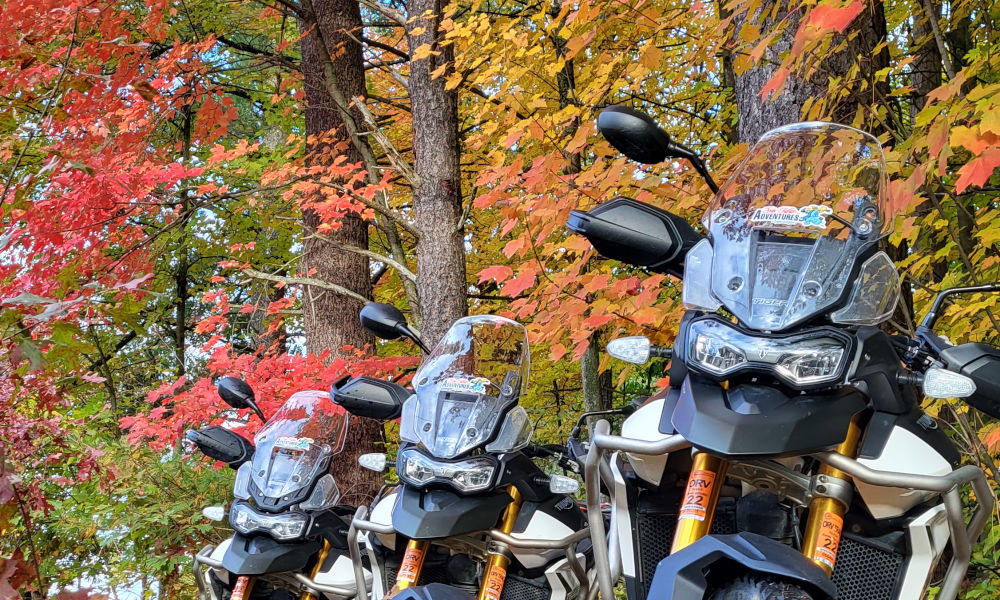 Michigan Classic Color Tour
As summer winds down in Michigan the air begins to cool and we replace short sleeves and swimming suits with hoodies and wool hats. At the same time, nature goes through a change as it gloriously announces the coming winter season. This brief window of change is known simply as the color change. The green palette that blankets this state's foliage is replaced by dazzling reds, brilliant yellows and burning oranges. Folks from around the country descend on Michigan this time of year to take in the beauty that is beheld. Some hike, some ride in buses and many just tour in their vehicles. On this two day all-inclusive tour, take in all the grandeur of the fall colors from the seat of a Triumph Tiger or Triumph Scrambler on the roads less traveled. The attentive technical advice and support received while on the tour will allow you to experience the sights, scents, sounds & sensation of Michigan's fall season.
Tour Dates
| Name | Dates | Price | Link |
| --- | --- | --- | --- |
| Michigan Classic Color Tour | Oct 22-23, 2022 | $2,500 | Book Now |
| West Michigan Tour | May 3-6, 2023 | $2,100 | Book Now |
| Tiger Experience Lv 1 | May 15-17, 2023 | $1,200 | Book Now |
| Scrambler Experience Lv 1 | May 15-17, 2023 | $1,200 | Book Now |
| West Michigan Tour | Jun 1-4, 2023 | $2,100 | Book Now |
| West Michigan Tour | Jul 30-Aug 2, 2023 | $2,100 | Book Now |
| West Michigan Tour | Aug 14-17, 2023 | $2,100 | Book Now |
| West Michigan Tour | Sep 4-7, 2023 | $2,100 | Book Now |
| West Michigan Tour | Sep 7-10, 2023 | $2,100 | Book Now |
| Michigan Classic Color Tour | Oct 20-23, 2023 | $2,500 | Book Now |
West Michigan Tours are 2½ day events
Day 1: afternoon arrival, welcome, orientation.
Day 2 & 3: full adventure riding.
Day 4: morning departure. (3 nights lodging.)
Experiences are 1½ day events
Day 1: afternoon arrival, welcome, orientation.
Day 2: full adventure instruction/ riding.
Day 3: morning departure. (2 nights lodging.)